Discover Ugo Gattoni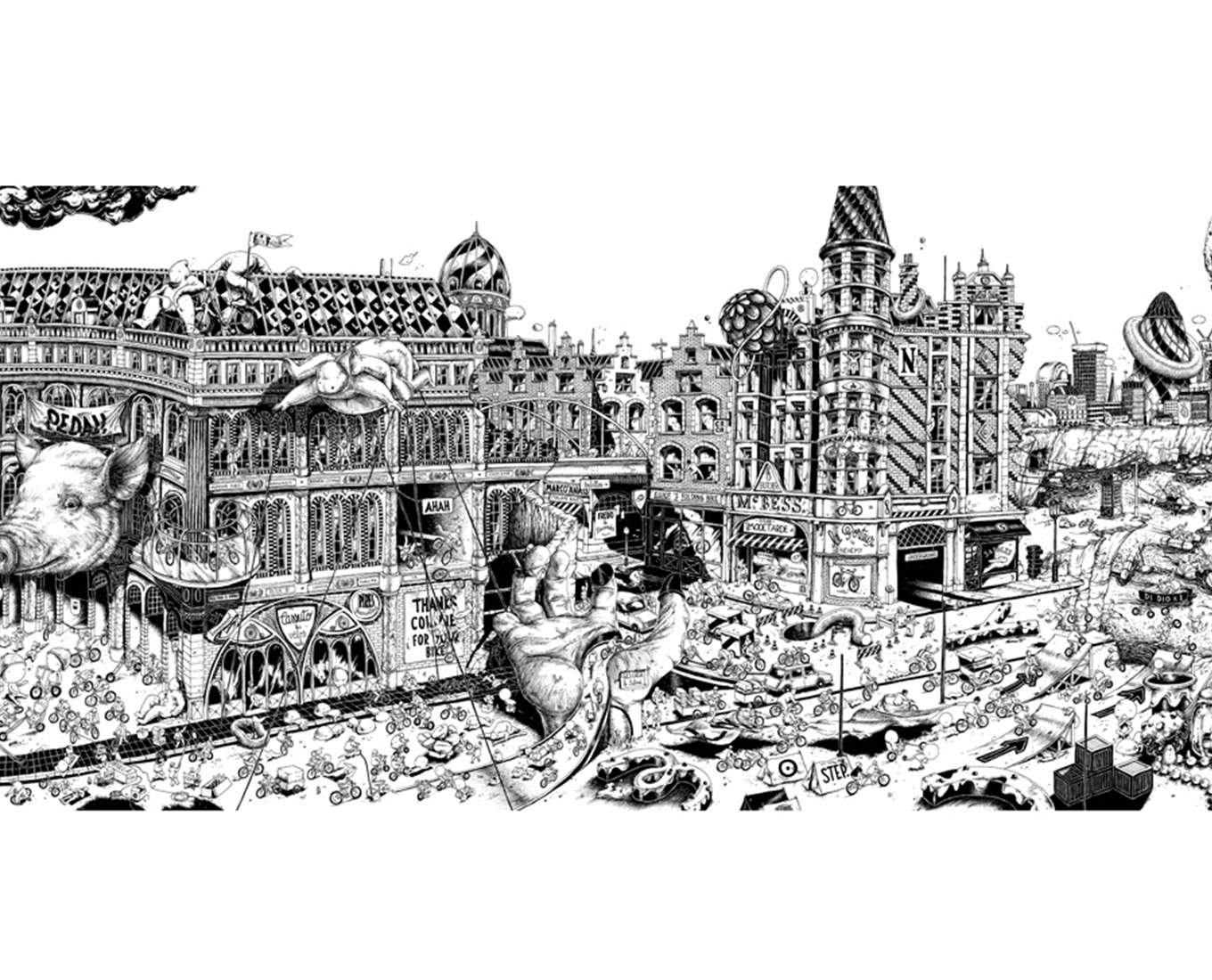 Ugo Gattoni is an illustrator and artist. Originating from Vitry-sur-Seine, a southern suburb of Paris, France, he graduated in 2010 from the EPSAA in Graphic Design. He tends to specialise in out-of-scale drawing performances created with graphite and black fine liner pen. His first major exhibition included one enormous wall-sized drawing that was 33 feet long and 6 feet high. He has now gained a reputation for his detailed and surreal black & white cityscape drawings and has been commissioned for many commercial projects ranging from luxury to editorial. He often collaborates with his close friend McBess.
His sources of inspiration travel through time and space. Hugely impressed by the masterworks of Dalí, Bosch and Michael Angelo, Gattoni is also very fond of Greek mythology and architecture. He also recognises the talent of his peers like Santtu Mustonen, Micah Lidberg and Jonathan Zawada.
As a result, his artwork also transcends space and time: "I like to play with scales, working on wall-sized drawings, offering several layers of interpretation to the viewer. I like to immerse people in a whole new world, both physically and spiritually. This type of artwork is a real performance, needing a great amount of production time and extreme attention to detail – and that's something I very much enjoy."
"My creative process is very simple – I first work on a graphite pen sketch for approval, then once that's settled, I go over it very neatly with my rOtring to create the layout, then comes the filling and the colouring. Overall, it's a very simple three-step process. I mostly do the colouring by hand and very seldom use digital tools during this stage. Most often, I will only use digital to clean the drawings!"
Even though it is difficult for him to choose from his huge collection of rOtring pens, he settles on the rOtring Rapidograph as his favourite of all.
Gattoni is already working on his next book, which will be published by Nobrow Press. He's also working on an exhibition that is to take place in December 2014. Even though he cannot let the secret out yet, Gattoni confesses this exhibition will showcase one of his biggest artworks using a rOtring technical pen. As a side plan, Ugo Gattoni is also eager to get to know more about motion design – which is a technique he's starting to love more and more.
BICYCLE, a 5-metre-long drawing about bicycles through the streets of London: BICYCLE.